It's time to move Vida to running in Edge – Permanently
There is still a work around to make Vida launch in Internet explorer (see here), but really there is little point in it. That glitch will probably get "fixed" so, might as well make the EDGE experience as simple as possible.
Until recently, IE TAB extension for Chrome or Edge was a great way to get Vida to work properly on modern browsers, but IE TAB is now $20, there is an alternative to IETab which seems to work fine and is free its called "IEability – Open in IE", but it isnt a slick as IEtab.
Edge runs Vida fine, but one of the annoying things about Vida in Edge, is that every 30 days Edge forgets that it has to load Vida in IE mode and you have to remind it, and it puts up a banner at the top reminding you you are in IE mode, yah i know…fk off already.
Luckily there is a little patch we can run to make EDGE keep Vida running in IE mode forever. There are 2 differing ways to do it, the Method 1 is best as it removes the "You are running in IE mode" Banner and will never expire. I cant currently think of a good reason to use Method 2, but i will leave it there. At the bottom there are additional steps of Method 1 that allows you to keep a different browser as default if you dont want it to be Edge.
Lets Begin
Method 1 (Best Method!)
Set Edge as your default browser if it isnt already (see here for help)
Download Sites.zip from HERE
open the downloaded file and just leave the window hanging around some where.
Navigate to c:\Vida and drag the two files from the Zip folder to c:\Vida (see example below).
Double click on Sites.reg, it will ask if your sure, say YES, it will confirm its done it, Click OK.
Reboot. Thats it . Done.
Thanks to Jack White for the inspiration.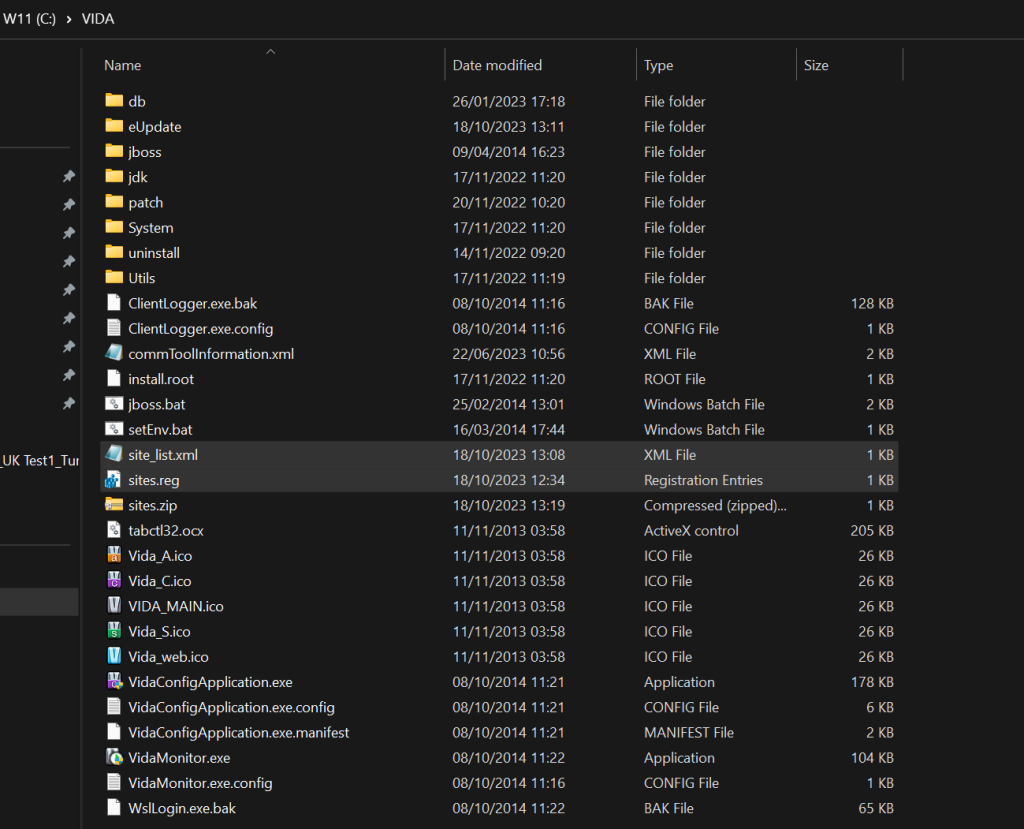 Method 2 (No longer recommended)
Set Edge as your default browser (see here for help)
Open Vida (Which should launch in Edge now)
Go to settings (3 dots top right)
Click "Reload page in Internet Explorer Mode"
A box will pop up, click the button that says "Open this page in Internet Explorer mode next time" and click Done.
Close Edge
download the Edge 30 Day timeout patch from here
Find the download, RIGHT CLICK it and do "Extract All" and then choose extract
click the IEModeExpiryFix-main folder to go into it and show the files
Double click to run either of the files (the one who's icon looks like a sort of S is the best one), click open then OK.
Now if you go to Edge settings (the 3 dots in the top right corner again), then settings at the bottom, then default browser, you should find the expiry date is now 2099! Yay
---

---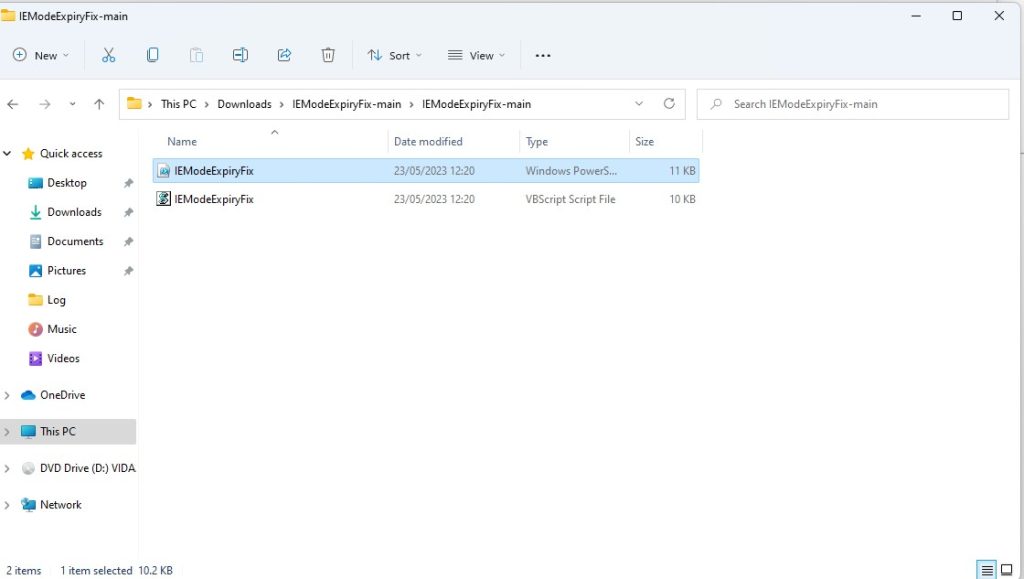 ---
Optional Additions to Method 1
Set your default browser to what ever you want.
Create a shortcut onto your desktop for Edge
Right Click it and choose "Rename" , and Rename it to something useful like "Vida in Edge".
next, Right click the Shortcut and left click "properties"
Now in the "Target" box at the very end add this line EXACTLY (see example below) http://localhost/Vida
Thats it done really, But we dont want an EDGE icon, we want a Vida icon!
Click the change Icon button, and navigate to C: \Vida and choose "Vida_Main.ico" and then click open, then OK, then OK.
Done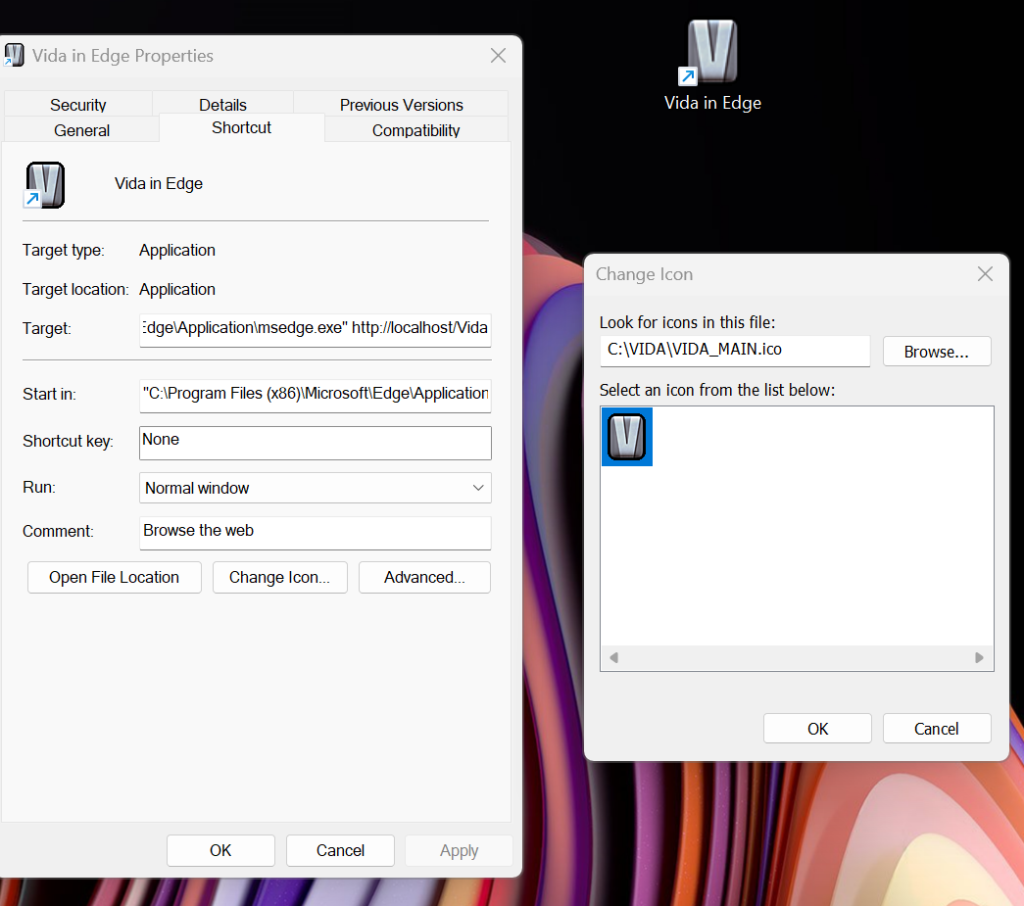 ---